4 Serious Mistakes to Avoid While Creating a WordPress Website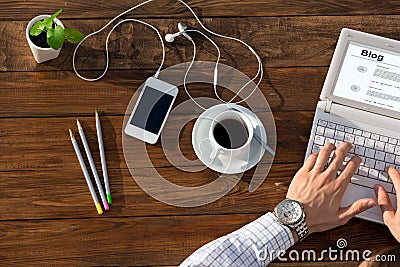 By
Ritika_Basu
What started its journey as a mere blogging tool in the year 2003, has gained wide popularity within a decade as the most popular self-hosted CMS platform across the world. Yes, WordPress is the most effective CMS technology across the world, which aids entrepreneurs in establishing a strong online presence. However, users often come across some common mistakes while deploying this platform, which leads to serious problems for your business. Thus, for making the WordPress solution flexible and reliable, it is ideal to avoid such mistakes.
Following here are some of the common mistakes discussed.
No Updates
WordPress updates play an elemental role, especially when the newer versions of CMS are available. The latest releases hold fresh functionality which, makes the site more user-friendly and flexible. Thus, if you are not updating the site as per the new version, then, you may lag behind in the race of making your website better. Using the website without any continual update program serves as the wrong choice, which will end up in decreased online visibility.
Choosing a wrong platform
Are you in the dilemma with self-hosted WordPress.org and free WordPress.com? When starting as a novice beginner, it becomes extremely crucial to comprehend the differences between the two and choose the right application. Inherently, both come with their own benefits and drawbacks and so, it is a daunting process to choose the ideal option for your business. Thus, the key is to research extensively and select the right platform.
No SEO Implementation
SEO serves as an imperative part of a business as it aids in making the website recognizable within the pool of your targeted audience. But, almost every website owner fails to pay much-needed attention to the SEO practices for which, they lag behind in the competitive business race. Thus, it is of utmost importance to implement an effective SEO strategy.
Not updating the default username
While installing this platform, it creates the username named admin with respect to privileges of administrators. Generally, this username is easily predictable by hackers to access and acquire control over the site. Thus, it is ideal to update the default username while installing the platform. You can deploy a perfect combination of letters, numbers and special characters for making the password and username stronger.
Wrapping up
It is a proven fact that with this phenomenal CMS platform, scopes of boasting a strong online presence multiplies. But, it is extremely important to know the right procedure to deploy it at its best. As the worthy choice, seeking professionalized help of WordPress developers will help you in developing and maintaining your website seamlessly.
Ritika Basu is a passionate writer, traveler and tech enthusiast who informs readers about the benefits of hiring an experienced http://www.phpprogrammers.com.au/hire-wordpress-developers/ WordPress developer in Sydney.
Article
Source